Aquatic area in Corrèze
Our indoor heated swimming pool in Treignac
During your stay in a mobile home at campsite La Plage, you can enjoy our covered and heated swimming pool all season long.
Treat yourself to a swim in our 12-metre long, 26-degree heated pool. Located at the entrance of the campsite, our swimming pool will allow you to enjoy the pleasures of the water with your family and friends. Not far away, you will find the table tennis table and garden furniture for a gourmet break with the ice creams available at the reception.
After a long day of sightseeing in Treignac and its surroundings, treat yourself to a moment of relaxation at the water's edge or do some invigorating laps in our indoor swimming pool. Relax on our deckchairs to enjoy the Limousin sunshine or enjoy the shade of our parasols.
Is the lake too cool to swim in? Come and enjoy a heated swim in our indoor pool. With your family or friends, enjoy a pleasant time at our campsite near Brive with its heated and covered swimming pool.
A word from Nicolas, campsite manager

"We invite you to come and relax by our heated and covered swimming pool. Our aquatic area will delight young and old all season long."
Dates and opening hours :
Dates

: 1 April to 2 October

Timetable

: from 10am to 8pm.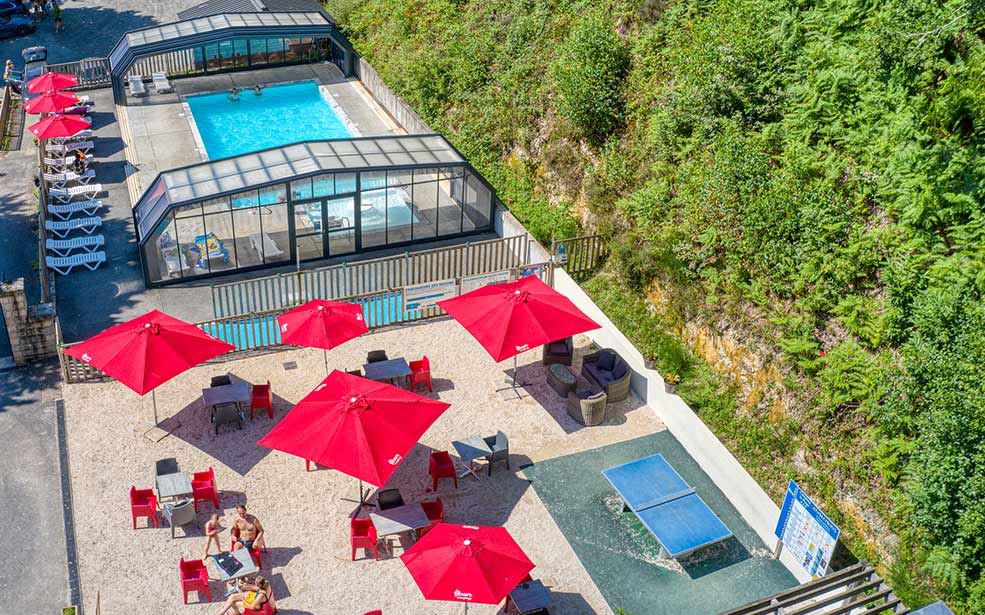 Our paddling pool in New Aquitaine
Your young children will appreciate our paddling pool heated to 26 degrees. Adjacent to our heated swimming pool, our 9 m² paddling pool has a mushroom-shaped fountain that will delight your children.
Parents, watch your babies' first swimming moments and marvel at this touching spectacle.
On the programme: your children's laughter and discovery of the joys of water, all in a safe and fun area.
Our paddling pool is the ideal place to splash around and will keep your children busy during your family holiday at our 3-star campsite with indoor pool near Tulle.
Lovely campsite with a view of the lake, family atmosphere and friendly staff. The swimming pool is great after a day of sightseeing. Everything you need at campsite La Plage!
Agathe
Our water games in Treignac
Water sports enthusiasts, welcome to Treignac!
The Bariousses lake, opposite the campsite La Plage, is definitely the ideal place to spend a relaxing or sporty day with your family.
During your stay at our campsite, children, teenagers and adults will be spoiled by the Vézère-Monédières Nature Sports Station and its many activities: canoeing, stand-up paddle, pedal boat.
In summer, take advantage of our campsite's lakeside location to have fun at the inflatable water park on the lake Treign'Aquaparc. An amusement park on the water with catapult, obstacle mat, giant tower, slide, trampoline etc… Challenges are organised throughout the summer in a festive and fun atmosphere. Find the ticket office at the reception to enjoy all the activities.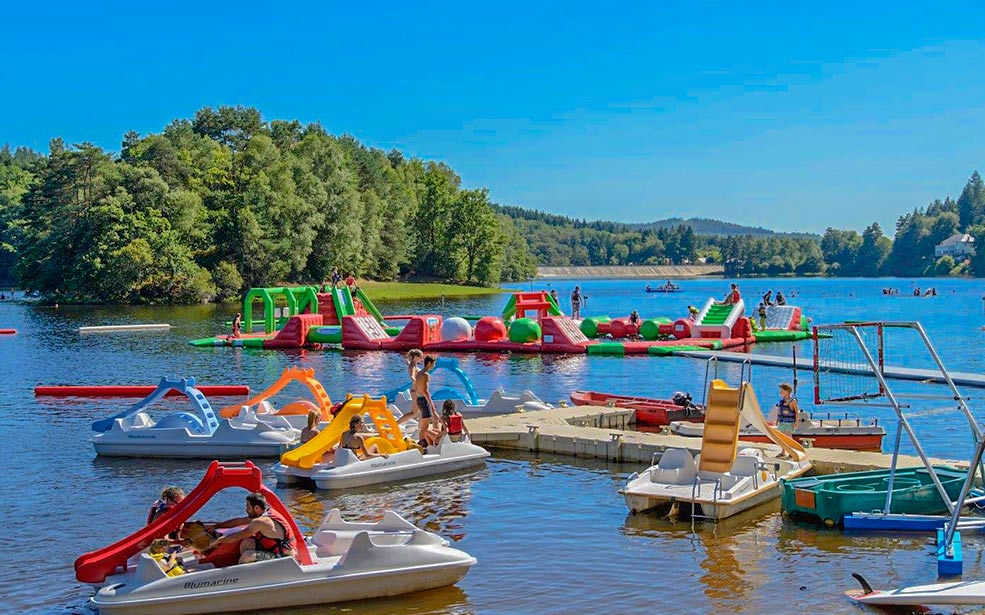 Other bathing places in the vicinity
During your stay at a campsite in Treignac, take advantage of our swimming pool, but also of the many swimming spots in Corrèze.
Take a break among the thirty or so lakes and ponds in this green department. With their fjord-like appearance, these water features invite you to travel and contemplate. Some have been awarded the "European Blue Flag" label and are supervised in summer.
Among them, discover during your holidays in our campsite in Treignac, only 13 km from the campsite, the Lake of Viam. Come and explore this majestic lake and its 189 hectares of wild and preserved nature.
A paradise for photographers and drone users, the lake is transformed into a leisure centre in summer, with supervised swimming and a variety of activities: water skiing, archery, canoeing, mountain biking and sailing. Enjoy fishing in the Vézère and hiking on the footpaths.
Further afield, about fifty kilometres from the campsite, you can take advantage of the other unmissable watering holes in the Corrèze where you can enjoy a swim: Lac du Causse in Lissac-sur-Couze, the reservoir of the Bort-les-Orgues dam, Lac de la Triouzoune in Neuvic, Plan d'Eau de Miel in Beynat, Lac de Séchemaille in Meymac.
Entertainment and rentals at the campsite