Campsite with entertainment in Corrèze
Our entertainment in Treignac
During the summer, our campsite organises a wide range of entertainment for children.
Take your children aged 6 to 12 to the Mister Flower Club for fun and educational workshops. The budding campers will appreciate the entertainment mornings organised by our activity leader from Monday to Friday. They will make new friends with whom to share fun moments and create many memories.
Parents, take advantage of these privileged moments to go to the campsite's swimming pool or take a thirst-quenching break at the snack bar opposite the campsite in Corrèze.
Register your children for free at the campsite reception.
A word from Nicolas, campsite manager

"Our team offers a wide range of entertainment for all ages during your stay at our campsite. With family or friends, come and enjoy our leisure facilities on site. Our Mister Flower Club welcomes your children from 6 to 12 years old in the afternoons from Monday to Friday."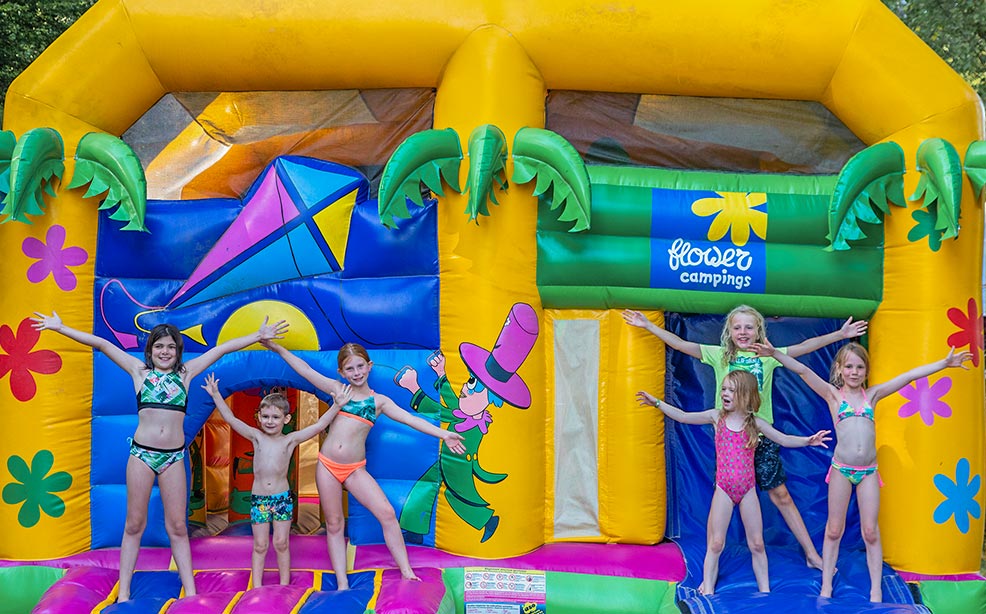 In summer, our campsite offers family entertainment to make your stay in Treignac unforgettable. Our campsite offers entertainment for all ages, with 3 to 4 animated afternoons per week.
Take part in outdoor sports and fun activities, usually organised on the beach of the Lac des Bariousses, depending on the weather.
The campsite organises treasure hunts for the pleasure of your children as well as guided walks to discover nature and learn about slow tourism.
After a day spent at the Lac des Bariousses, canoeing on the Vézère or relaxing in the campsite's heated swimming pool, take advantage of the evening entertainment organised by our campsite. End your day with a friendly and entertaining moment in the reception area.
Make yourself comfortable in one of our garden rooms and enjoy the entertainment. Take part in dance evenings, quizzes, karaoke, bingo or children's shows. To respect the peace and quiet of everyone, the entertainment usually ends at 10:30 pm.
A friendly family campsite. Good value for money. The proximity of the lake and its small beach is a big plus. Children's club from 6 years old in the morning. Entertainment in the evening and afternoon. Good address for a family holiday.
Anne-Sophie
Our equipment
The playground at our 3-star campsite will keep your children entertained throughout your stay. They will love the different structures dedicated to them. Our large, colourful, brand new bouncy castle will keep your children entertained, accessible every day from 10am to 12pm and from 2pm to 7pm.
Thanks to the playful course, it will be the perfect opportunity for them to have fun in complete safety (parental supervision is mandatory). In addition, children can easily have fun in the play structures dedicated to them on the lake beach opposite the campsite.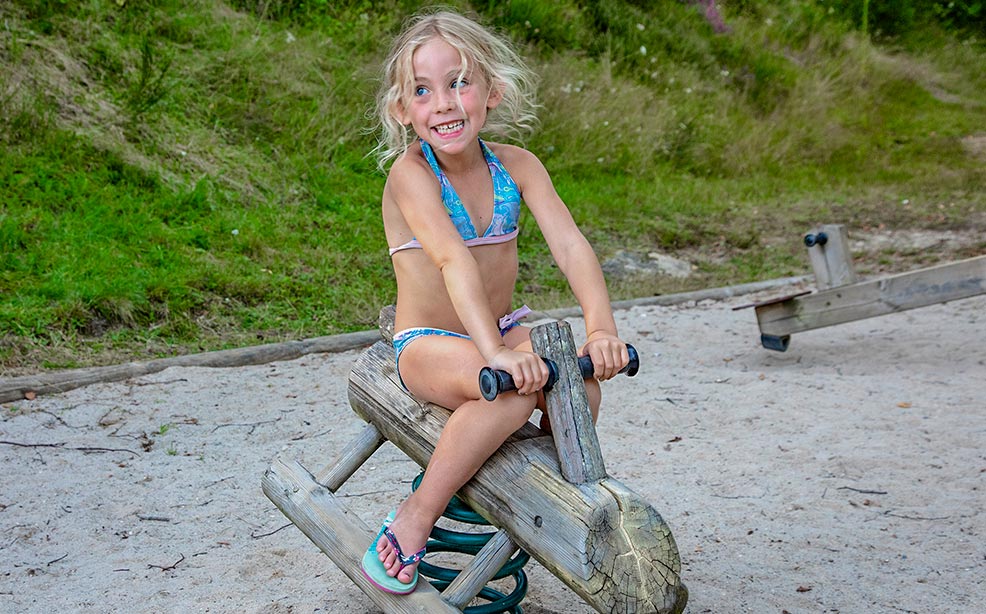 Lake in Corrèze
Go on a campsite holiday in Treignac, in the Millevaches regional nature park in Limousin and enjoy a stay in the heart of nature. Choose to spend your holidays at Flower Camping La Plage in a mobile home, lodge cabin or pitch to discover the Lac des Bariousses.
Stretching over 100 hectares and measuring 3.2 km in length, this lake will offer you all its assets for a successful holiday in Corrèze. This lake is fed by the Vézère, a river steeped in history.
Nicknamed the "Valley of Man", the Vézère valley is full of exceptional prehistoric sites that you will find during your stay at our 3-star campsite on the lake. The Lascaux IV cave in Montignac-Lascaux and the Cro-Magnon shelter in Les Eyzies are both unmissable sites during your holiday near the Dordogne.
Choose the Corrèze and more particularly Treignac for your future holidays and enjoy the lake of Bariousses in direct access from our campsite with entertainment.
During your holiday in a 3-star campsite by the lake, come and enjoy a multitude of activities at the lake's leisure centre.
From traditional pedal boat rentals to canoeing and stand-up paddling, as well as fishing on an electric boat, there are a number of water sports activities to keep you entertained during your campsite stay in Treignac.
Stay in a campsite at La Plage and try out the various activities available on the Bariousses lake. Make your stay in Treignac a moment full of thrills. Children, teenagers and adults, come and have fun in the inflatable water games of Treign'Aqua Park, available in summer. Special rates are available at the reception.
From the terrace of your mobile home or cabin, or from our bare pitches on the roadside, contemplate the Bariousses lake. The view from the campsite is breathtaking.
Fishing in Corrèze
Make the most of your stay at campsite La Plage and go fishing with your family or friends for a convivial moment. Let yourself be tempted by an original activity during your campsite holidays by the lake.
Whether you are on your own or with a qualified guide, you will find several places to go fishing: the Portail de Treignac lake, 3 km from the campsite, or the Lac des Bariousses, just opposite.
Well situated close to the lake, quiet, shady. A pleasant campsite.
Benoit
For all young fishing enthusiasts, a crayfish fishing trip is organised every Wednesday once a week during the summer for children aged 6 and over.
Children can learn how to set up the scales to catch Californian crayfish in the Vézère river and also how to prepare them! An ideal activity to learn while having fun.
Older children can fish for Californian crayfish on their own, but must have a fishing card, available at the Treignac Tourist Office.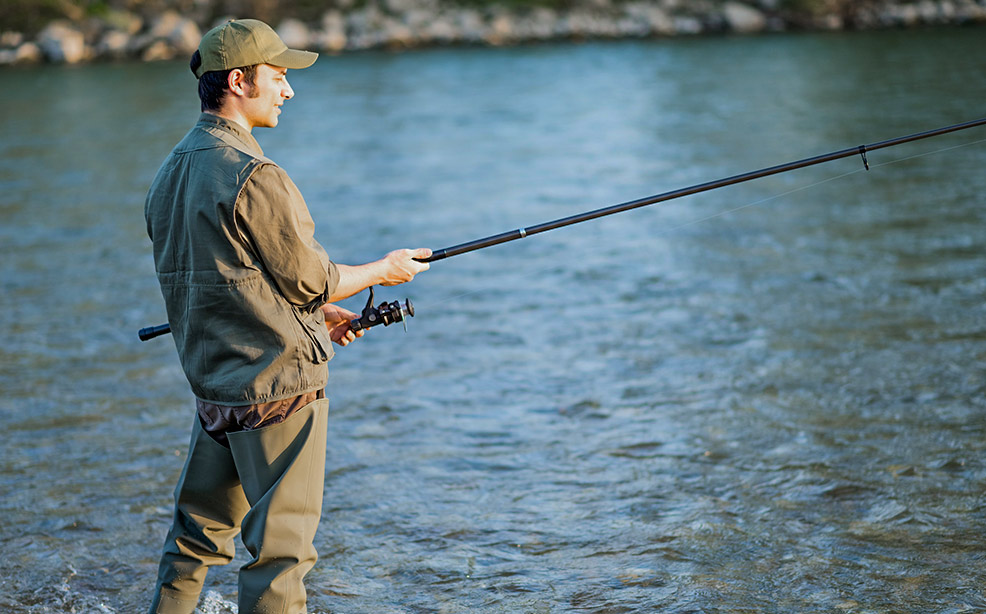 Our campsite has the Fishing Accommodation label. This label is awarded to accommodation structures providing services adapted for fishing.
Friends fishermen, stay in a mobile home or pitch at La Plage in Treignac and find :
During your campsite holidays in Treignac, enjoy the Lac des Bariousses, classified as a second category fish lake. This lake, located opposite the campsite, offers fishermen a variety of banks and landscapes.
With a maximum depth of 20 metres, the Lac des Bariousses has several interesting sectors, particularly at the level of the Vézère river. Pond fishing, trout, pike, pike-perch, perch, catfish and chub will delight the carnivorous fishermen. Roach, bream, tench and carp will delight anglers.
Take advantage of our dedicated fishing room to safely store your equipment.
The swimming pool and the surroundings of the campsite